Here's the story of how each wood map gets made,
and its journey through the Bay Area…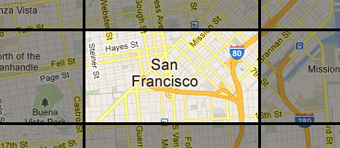 Your Design
Your Browser
Our website lets you pick a size for your map, create a composition of anywhere in the world, and define which woods should be used for roads, water, parks, etc.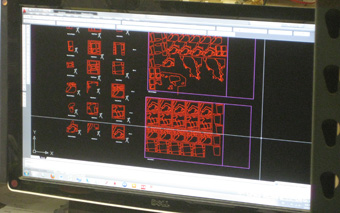 Our Software
The Cloud
Our custom software processes your design to get it ready for production. We simplify edges, remove small pieces, and add guide marks to ease assembly. We render the design into several laser-friendly CAD files.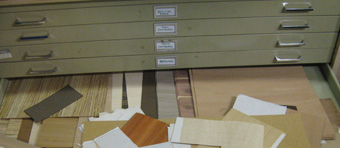 Wood Veneers
Berkeley
Our selection comes straight from fine folks at MacBeath Hardwood. We always keep a few standards in stock like Ebony and Mahogany, but we can't resist the occasional impulse purchase like Zebrawood!
Lasers!
Bayview
Alex Thompson at Pagoda Arts escorts the wood through his lasercutting machine with the assistance of the CAD files from our software. He also does a lot of materials prep and consulting to make assembly easier.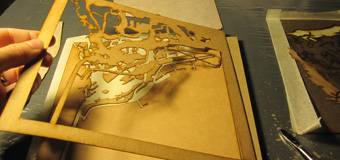 Map Assembly
Mission District
The increased precision afforded by the lasercutting machine requires increased precision from our inlay techniques. Some pieces are large and unruly while others are small and wily. Tweezers are our friends. Our team of master craftspeople gets every piece where it belongs, sands the map flat, and finishes it.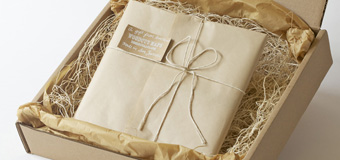 Packaging and Fulfillment
San Francisco to ???
It's important to us that the same care that went into making a map be involved in transitioning it from us to you. We pack every order in natural materials that protect the map during their journey, are a joy to receive and unpack, and are easy to dispose of responsibly.